HOTEL POCHOMIL NICARAGUA
GLEN HOWARD SMALL – ROGER LEWITES ARCHITECTS, DAVID CADIA COMPUTER ASSOCIATE


IN 2003 A NEW CLIENT AND PROJECT FOR ROGER LEWITES AND I, HERBERTO ORTEGA, THE RETIRED GENERAL AND THE BROTHER OF DANIEL ORETEGA. A LONG TIME FRIEND OF HERTY LEWITES THE MAYOR OF MANAGUA, OUR CLIENT. THE SITE VISIT TO POCHOMIL ON THE PACIFIC COAST IN AN SUV WITH AK 47 ON THE FLOOR AND GUARDS IN FRONT AND REAR SECURITY TRUCKS. WALKING THE SITE WITH SECURITY GUARDS UP FRONT, IN THE REAR AND ON THE FLANKS.
THE PROGRAM A 40 UNIT CABANA HOTEL AND WITH POOLS, BEACH, RESTAURANT, BAR, NIGHT CLUB, SHOPS, SEMINAR ROOMS, ESTUARY, BOATING RAMP AND 22 ESTATE SITES.
THE USER CLIENT BEING HERBERTO'S DAUGHTER AND SON IN LAW THAT HAD A NIGHT CLUB IN MANAGUA WITH A HIP CLIENTELE.
THE SITE ON THE PACIFIC COAST SOUTH OF POCHOMIL NICARAGUA, WITH ROCK OUT CROPPINGS. AN HOUR ON PAVED ROAD TO MANAGUA NICARAGUA.
THE IDEAL CLIENT, THAT PAID FOR SERVICES AND DID NOT MESS WITH THE DESIGN, OTHER THAN MINOR ADJUSTMENTS TO THE PROGRAM.
ALL WENT SMOOTHLY, BUT STOPPED AFTER THE PRELIMINARY CONCEPT SHEME.
THE SPIN OFF WAS HAVING GALA PARTIES IN HIS COMPOUND IN MANAGUA, SOMETHING OUT OF A MOVIE WITH ROASTED PIG ON SPIT AND ROCK AND ROLL BANDS PROVIDING THE BEAT FOR DANCING AND SINGING.
THE CONCEPT WAS TO USE LOCAL BUILDING MATERIALS AND CONSTRUCTION METHODS WITH A STUCCO WRAP. THE VISUAL EFFECT BEING LARGE SEA SHELLS SCATTERED ON THE CLIFFS IN THE TROPICS.
THE CABANAS ALL HAD OCEAN VIEWS FROM A TERRACED SITE WITH SMALL POOLS AND FOUNTAINS EAST OF THE WESTERLY WINDS TO COOL THE WALLED ENCLOSURES.
THE CENTRAL GREEN TERRAIN REINFORCED THE NATUAL DRAINAGE WITH NATURAL POOLS.
A DISTINCT INTERNATIONAL DESTINATION POINT DRAW.
HERBERTO WAS SENSITIVE ENOUGH TO RESPECT THE DESIGN, BUT IT NEVER HAPPENED, YEARS LATER HERBERTO SELLING THE LAND.
SHOWING THIS PROJECT OVER THE YEARS TO DIVERSE PEOPLE IT ALWAYS GETS THE WOW GASP, THE UNIVERSAL BEAUTY REACTION.
THE WARPED ENTRANCE WITH SECURITY GUARD FACILITIES.
THE NIGHT CLUB ON THE LEFT AND CABANAS AND HOTEL ON THE RIGHT CONNECTED WITH A PATH THROUGH THE CENTRAL TROPICAL GARDEN.
THE SITE PLAN WITH THE CENTER GREEN BELT CONNECTING ALL FUNCTIONS THE NIGHT CLUB AT TOP LEFT AWAY FROM THE HOTEL. 22 HOME SITES WITH OCEAN VIEWS
THE TROPICAL GARDEN IN THE DRAINAGE THE RAVINE .
THE PRIVATE BEACH BORDERED BY THE PUBLIC BEACH.
THE HOTEL AND CASCADING SWIMMING POOL. OVERLOOKED BY RESTAURANTS AND GATHERING SPACES.
A SECTION THROUGH RESTAURANT AND POOL , A CANOPY HAT AT RIDGE FOR LIGHT AND VENTILATION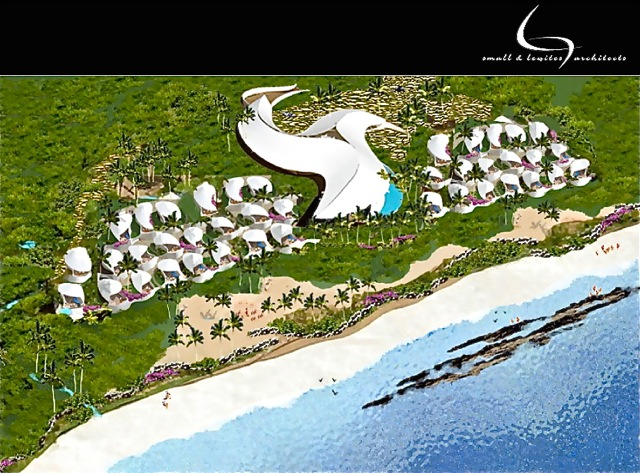 THE TERRACED CABANA AREAS WITH INDIVIDUAL POOLS THE CONNECTING PATHS ACTED AS PUBLIC SEATING AREAS.